AUDITIONS : COMPANY & TEAM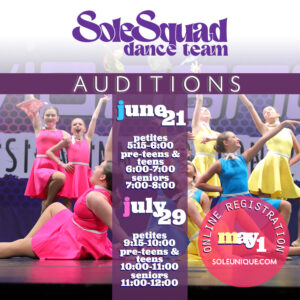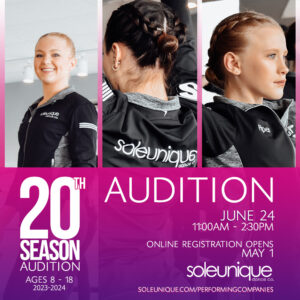 The dancing doesn't have to stop at the end-of-year dance recital. We have an abundance of performance opportunities throughout the school year that will further develop your training and expose you or your dancer to the bigger-picture outside of the studio and on the competitive stage and/or the dance convention ballroom weekend.  SoleSquad Dance Team and Soleunique Dance Company. Each are their own, unique, timestamps in the life of a young dancer and will introduce you to a world of dancing that lives far beyond the four walls of the local dance studio. Focused training, goal-oriented group efforts are what build smart, problem-solving individuals. Dance is an excellent vessel to ease the transport. Onstage performances began as early as October and convention/competition season begins winter 2024. Audition information is available now in the Performing Companies tab above and by clicking the images above/below or side/side.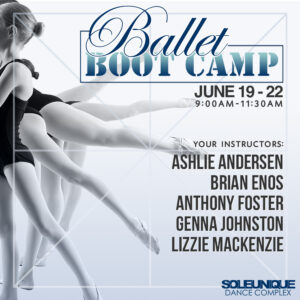 Back by popular demand, it's the return of the Sole Unique Ballet Boot Camp this summer. Whether you're maintaining technical prowess, looking to pick up new skills or just getting started, there's something here for everyone in this 4-day, 10-hour, ballet-focused camp. Guest faculty includes acclaimed instructors Ashlie Andersen (Fox Valley Ballet), Brian Enos (Houston Ballet & Hubbard Street Dance), Genna Johnston (Joffrey Ballet School & NIU) and Lizzie Mackenzie (River North & Extensions Dance Co.),  joining our resident instructor, Anthony Foster (Ballet Chicago & Soleunique Dance Co.),  to round out the event. Minimum age to enter is 8 and there is no maximum age limit. Early-bird & special $50-off rate applies until the end of April if combining registration with our Hip Hop Camp. Regular rate of $160 applies May 1st until sold-out ($25 off if also combining Hip Hop Camp). We look forward to seeing you there!
Who's ready to session-up!? This is the JAM of the summer and exclusively here at the Sole Unique Dance Complex in Aurora year-after-year… and it just keeps getting better! Old-school style, classic fundamentals, new-school flare and a ton of style with a talented group of instructors at the wheel; the Hip Hop Camp is one that opens new doors for movement exploration as well as refines and revitalizes the true culture of Hip Hop dance. Just a half hour after our Ballet Boot Camp, the boogie begins! With some of Chicago's best and well versed in traditional and modern-day movement, we would like to introduce our instructors for the event: Suavé (Hip Hop Connexion), Chris Zarate (City Nation & The Dance Workshop), Daniel Aguirre (SoleSquad), Eileen Mallary (Culture Shock® Chicago), Elizabeth Rivera (AGT & World of Dance), and resident instructor Anthony Foster. Bundle with Ballet Camp for discounted rates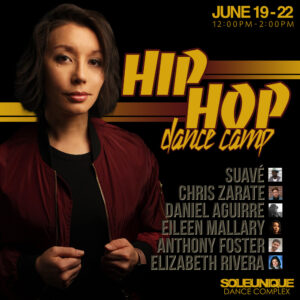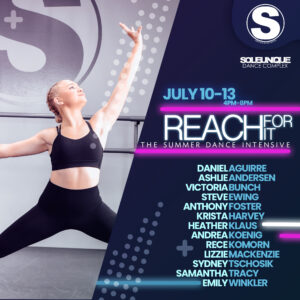 Ready to kick it up a notch and really dial-in on some focused dance training? Look no further. Reach For It, the Intensive is back again for another installment this summer of 2023. This is our most versatile, demanding (yet, attainable), and sought-after event of the year for all of our returning and first-time dancers. If you love dance conventions, this is definitely an event for you and your friends! Contemporary movement, Broadway/Rockette Tap, Musical Theatre, Exploratory Movement, classic and modern-day Jazz… there's so much more in store we don't have enough space on this page to include it! Joining our core faculty members Victoria Bunch and Anthony Foster; we've also brought you some amazing, local dance educators who are leaders in their field. Here's your chance to train with Daniel Aguirre, Ashlie Andersen, Steve Ewing (Industry Xperience, Wicked & INSPIRATI), Krista Harvey (Radio City Rockettes), Heather Klaus, Andrea Koenig, Rece Komorn (UArts & Soleunique Dance Co.), Lizzie Mackenzie, Sydney Tschosik (U of I & Soleunique Dance Co.), Samantha Tracy & Emily Winkler (Jazz Theatre of Illinois, NDEO & Dance Academy of Libertyville). Price $295 after May 1. $25 off if you register early.
BRAND NEW EVENT FOR 2023! It's the Totally Tubular Dance PARTY! Better yet – we're doing it twice. Can you guess there's a theme here? Hmmm… could it be… 80's? Ohhhhhhh yeeeeeah (where's Ferris Beuller?). This one ticks all the boxes for your 7-9 year old dancer (or soon-to-be dancer) and is kicking off at our Wheaton Sport Center location on June 26th and will relocate to our flagship location in Aurora on July 24th. For only $65 each, both are two-day events for two hours each-day. Click on the image to expand the detail on this super-fun event just for your allllllmost teens. How radical would it be to have some totally bodacious dance steps soak in with some killer vibes? The photo might be square, but the event is far out! Kids aged 7-10… come experience a blast from the past and join us for the Totally Tubular Dance Party premiering this summer with our very own Gera Klug and Diana True with their most-xcellent and non-heinous assistants! Did we just conjure up Bill and Ted? Maybe…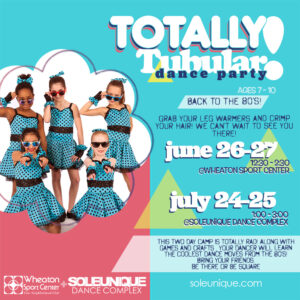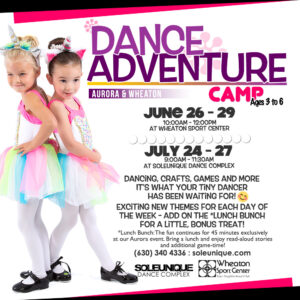 Hows about THIS fan-favorite!? Come dance with us again or even for your first time. Dance Adventure Camp makes a return this summer at both our Aurora and Wheaton locations and you don't want to miss out on the fun for your 3-to-6 year olds! We have so many exciting activities and surprises in store for this 4-day camp. Crafts, stories snacks and (of course), dancing! We will explore "Animal Adventures", visit an "Island Princess", become a "soleUNIQUE Unicorn" and use our "Fancy Feet" to dance the day away. Pick some friends and sign up today! Early-bird registration cutoff is May 1st. Wheaton Sport Center event will take place June 26-29 from 10:00am-12:00pm for the rate of $65 and our Aurora event at the Soleunique Dance Complex will be held July 24-27 from 9:00am-11:30am also for $65.
The time has come for recital fun! Costume measurements will be taken by your instructors and assistant teachers throughout January at both our Aurora and Wheaton facilities. Photos and descriptions of your dancers' costumes are available right here on soleunique.com. Here are direct links to Aurora and Wheaton costumes. These pages may be updated throughout terms 3 and 4 with more detail from your instructors regarding hair styles, tights, shoes and/or accessories.

With new interior construction in the summer of 2015, your dance home hasn't skipped any of the necessary amenities and offers quite a few luxuries as well. The facility hosts 3 dance rooms; each with dimmable LED track-lighting and floor-to-celing mirrors. The spacious lobby and reception areas include comfortable work-stations for students and parents to get homework done, continue with business projects or even to layout and stretch. We're also an Xfinity wi-fi hotspot.
We have included a dressing room with moderate storage as well as multiple coat-hooks to place your belongings and also offer multiple stall restroom facilities. Our cozy kitchen is equipped with a large refrigerator to store your between-class-meals as well as multiple, filtered-water dispensers to keep you hydrated throughout the day. Pickup/drop-off is a breeze with our large parking lot which includes over 30 spaces.
Location, location, LOCATION! The studio can be found less than a minute (literally), from the I-88/Farnsworth interchange. Commuting to/from the western suburbs or even Chicago and Dekalb have never been easier!
Studios 1 & 2 have state-of-the-art, sprung sub-flooring with a vinyl-top dance layer as well as floor-mounted and portable ballet barres. Studio 3 is wall-to-wall hardwood and is primarily utilized for our tap program.  Each of the studios have pro-audio PA systems with speakers mounted on the walls for optimal sound quality and to increase space on the dance floor; and all the three studios have 3'x5′ viewing windows with seating to observe classes.
Safety and security is a top priority. 24-hour security monitoring and multiple (HD) interior/exterior security cameras recording activity at all times is a must-have.
Who We Are
It's more than just dance